I'm not normally big on physics games on the iPhone. See, I took advanced physics in high school 12 years ago, and I damn well hated it. When I got done with the class, I never wanted to have to think about physics again. So imagine my initial disdain when I found out the game I was going to be reviewing was a physics-based game.
Then imagine my surprise when I actually started enjoying it.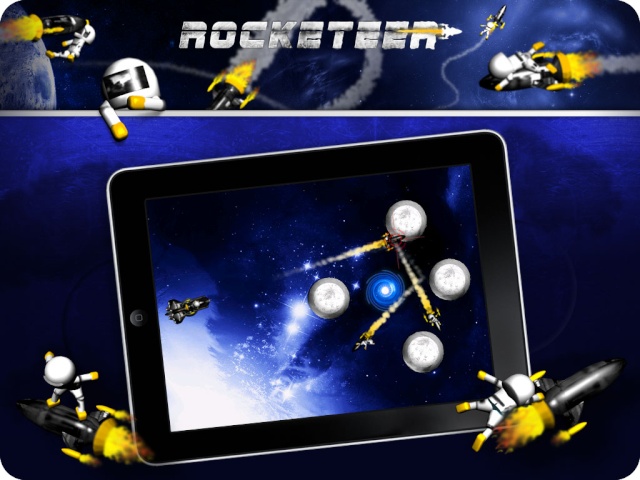 The general story in Rocketeer is that you're trying to basically "slingshot" your spaceship with the gravitational pull of planets into a wormhole. There are three different sized planets, each with their own mass-to-gravity ratio, and you have to take into account the speed with which you launch your ship.
Fire your ship so it moves slowly, and the gravitational pulls can move you dramatically. Conversely if you fire fast, you'll break through the gravity pulls with slight changes to your trajectory. Needless to say, when you have multiple planets with multiple sizes in the mix, it can get pretty complicated, pretty quickly.
After a while, the game introduces yet another element to contend with - different colored wormholes. Like teleporters in a FPS game, go in one red wormhole, come out the other red wormhole with the same velocity and trajectory. The same is true of the orange wormholes - your ultimate goal throughout the game is to reach the blue wormhole though.
Yes, this game gets THAT hectic.

The graphics might not be all that to look at, and the sound might be a bit corny at times - but don't let that take anything away from this little gem. And while I've only talked about the planets and portals, there are NUMEROUS other hazards that get introduced to the game at a very reasonable pace. Things like locked gates, asteroid fields, planets that grow and shrink, mines, and turrets all need to be dealt with to get to the goal.
Overall, I give Rocketeer by Wired Developments a nice 4 Michela out of 5 rating, for being great fun and a great value. I hope that some more level packs are in the works, or even better yet, I would LOVE a "design your own level" mode to be released. At $0.99 however, I have no problem recommending this to anyone that loves puzzle games.

Guest

Guest





---
Permissions in this forum:
You
cannot
reply to topics in this forum