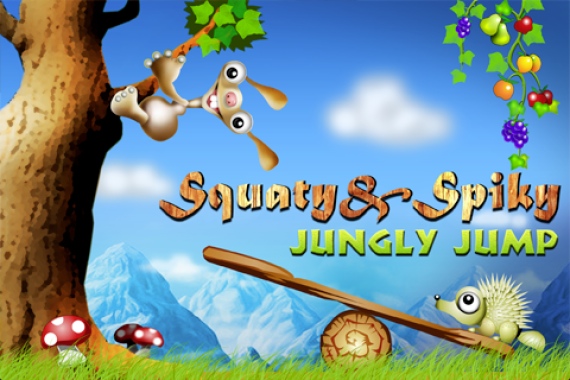 iPhone games are a dime a dozen nowadays, and it takes a good bit of luck to find one that's really worth the price. Jungly Jump by Medl Mobile comes out with a hell of a claim, saying they're an "Angry Bird killer", but in the end, it flies short for the price-point.
Story:
Jungly Jump combines some game elements from Angry Birds, with a few from Bloons as well. The basic premise is that the two characters, Squaty and Spiky, run across some fruit that's out of their reach. Squaty has an idea to put Spike on one end of a board balanced on a log, while he climbs the tree and jumps down to launch Spiky at the fruit. In each level, you have three tries to get as much of the fruit as you can in order to meet your quota. Each level also features varied fruit placement, as well as differing obstacles and special blocks.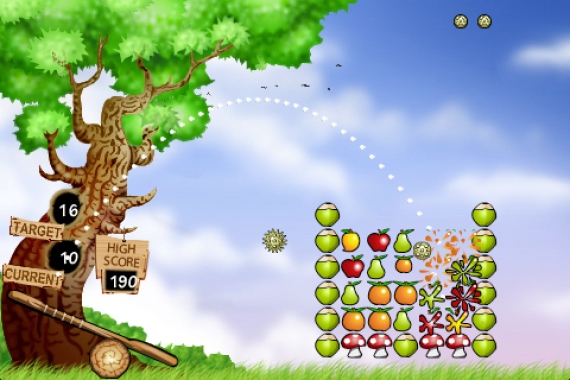 Control:
The gameplay is simple enough. First, you have to aim Spiky by sliding him up or down the plank. Once you're satisfied,with his placement, you then watch Squaty climb up and down a tree and tap the screen when he's at the height you want to drop from to launch Spiky. The higher the branch, the stronger the launch. Different levels will need different launch powers, and different angles to succeed.
That being said, Jungly Jump really fails to be as fluid as "good" iPhone games feel, with a general "clunky-ness" when trying to aim Spiky and drop Squaty. Unlike Angry Birds though, all the action is on one screen so you can somewhat rationalize where your shot will fly.
The game
lacks that satisfaction you get when playing a game like
Angry Birds
, however, because of how tedious the aiming is.
Another problem is that after a few levels, you'll begin to notice that there's really no change in the structure. It gets very repetitive and boring very fast, and with no upgrades to Spiky or Squaty to look forward to, it's hard to keep playing after a few minutes.
Graphics:
As you can see from the screens, the graphics aren't the best the iPhone is capable of, but there's a certain charm to them. Maybe it's because they look like my 9-year old son's drawings though.
Sound:
The opening song is annoyingly catchy (except for one note that doesn't seem in the right place), but the rest of the sounds are just "ho-hum". This is one of those games I find easier to play muted.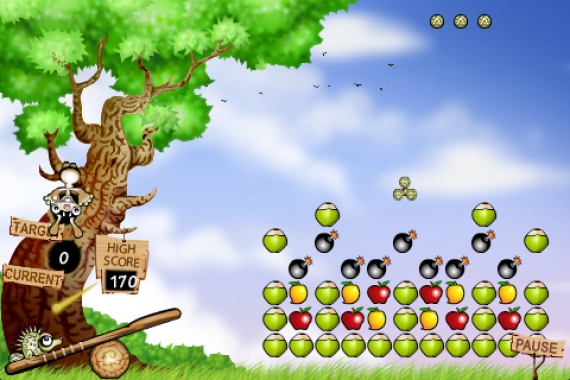 Final Thoughts:
Jungly Jump is NOT a horrible game by any means, but it could use some work. The animations need some fine-tuning to fix the jagged movements, and the game needs more depth to keep anyone interested for long. A few new and redesigned sprites would do wonders as well. Adding different abilities for Spiky (gliding maybe?), or powerups for Squaty (howabout a slow down so you can more easily control where he jumps from), plus giving each level a different feel would make this game immensely better.
As it stands, I find it hard to advise people to buy Jungly Jump at it's current price point. There are many other games that would provide a better experience with more features and depth for the $1.99 they're asking. If they begin pushing out updates that make the game deeper, then it may be worth the cost, however until then, there is a free trial version that shows exactly what the game is.
Final Rating: 1 1/2 Michelas out of 5

Guest

Guest






Similar topics
Hey Whiskey you on fire, 2 reviews this week, well done.

LOL at the 1 1/2 of 5.

Will give this one a miss, does look cool, pity its not free.

PS- keep up the reviews, and iPhone reviews are great as im loving the iPhone games and Apps.
---
Permissions in this forum:
You
cannot
reply to topics in this forum