Anyone watched the Grammys last night and thought to themselves. Man I wanna do Pink, Beyonce and maybe Gaga. I know I did.
From Gaga just being weird.
To Beyonce simply looking Stunning!
Man... to be Jay Z for a day. So many perks.
And the best performance of the night went to these guys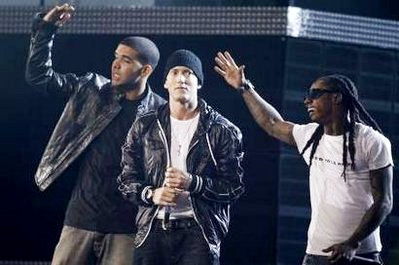 They rocked the house.

I agree 100%, Smooth! Although Beyonce is the curviest, I want Lady Gaga the most because...let's be honest...imagine the type of freaky shit she is capable of!

But in regards to the show itself, I thought it was a three-hour pile of garbage topped by a tone-deaf-as-hell performance by Taylor Swift. I know it's hard to compare anyone to Stevie Nicks, let alone some teenager like Swift, but Jesus, she was awful!

Overall, I'm just pissed that Lady Gaga didn't win more. Other than wanting to show her my "Disco Stick," I genuinely love her music, and apart from Morrissey's "Years of Refusal" (which was completely absent from the show), "the Fame" was the only album of 2009 that I really, really enjoyed!
---
Permissions in this forum:
You
cannot
reply to topics in this forum